COOKING AT CHRISTMAS – WHERE TO START?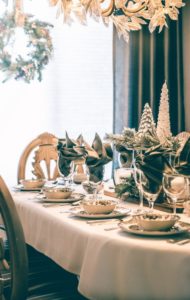 Christmas Day is all about spending time with loved ones but we often find ourselves spending most of the time in the kitchen. So, why not hire a private chef for Christmas and allow yourself to enjoy Christmas the way you should.
Imagine handing over the pressure of planning, shopping, preparing, cooking and cleaning, giving you time not only to spend with loved ones but also to relax, eat, drink and be merry!
Here at The Organisers Staff & Recruitment, we source a number of Private Chefs ready to make your Christmas totally relaxing and stress-free. Our Private Chefs can provide all the ingredients, prepare the food in your kitchen, serve everyone and wash up afterwards – what more could you ask for?
If you're looking for more family time, a stress-free Christmas and of course delicious food, please do get in touch with a member of The Organisers Staff & Recruitment team or The Organisers Managing Director Katie Shapley on +44 (0) 20 7078 755 or email staff@theorganisers.com.