DOMESTIC STAFF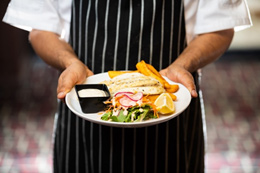 Within our Staffing division at The Organisers Staff and Recruitment we are able to source some of the best domestic staff in the UK to be of additional support to you and your family.
If you are struggling to find the time to go to the supermarket, or lacking inspiration in what to do with a tin of tomatoes, a packet of Weetabix and some cavali, then one of our Chefs can visit the shops and prepare your meals for you.
Or has your child's school been closed and you're in need of an additional pair of hands around the house? If so, our Nannies can care for your children whilst you are busy working, entertain them and keep them busy.
If you are trying to avoid travelling, but you need to visit loved ones, then we can organise a Chauffeur to be there to take you from A to B, without any hassle.
Are you trying to claim a refund on your family holiday to Disneyworld? Our Personal Assistants can assist you with any administrative jobs you need.
If you think you could benefit from an extra pair of hands around the house using our award-winning services, contact us on 020 7078 7554 or email us at team@theorganisers.com