The best up and coming restaurants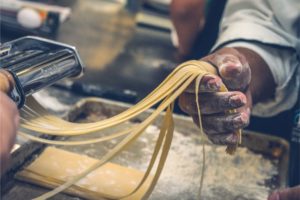 The Organisers have sourced the best that fine dining has to offer in the upcoming months. Taste, try and find something to tickle your fancy in this list of upcoming restaurants.
For more information on how The Organisers can help you book a table or design your evening do not hesitate to contact us on +020 3666 2326 or email team@theorganisers.com
12:51
Restaurant Type: Fusion cuisine
Location: 107 Upper St, London N1 1QN
Price: ££
Discover James Cochran's new restaurant which mixes his Scottish heritage with his Saint Vincent background to create some very innovative and fusion dishes. If you are looking to try something new and definitely different then enjoy his Buttermilk Jerk Chicken or his 50 day-aged Sunday roast beef.
Gloria's
Restaurant Type: Authentic Italian
Location: 54-56 Great Eastern St, London EC2A 3QR
Price: ££
If you are hungry for delicious tagliatelle drizzled with truffle oil, authentic Italian pizza's in a wood fire oven or maybe an exotic seafood risotto then Gloria's will be the desired spot for your family and friends to enjoy. Attached to a number of restaurants located in Paris and Lille, Gloria's offers a stunning space to enjoy your food and will definitely make you feel like you are sitting across from the Champs-Elysees.
Bourne & Hollingsworth Garden Room
Restaurant Type: Classic European
Location: 10th floor, above Assembly Hotel, 31 Charing Cross Rd, London WC2H 0LS
Price: ££
Enjoy panoramic views of the London Skyline whilst dining on a delicious set of signature cocktails alongside some tasty and seasonal food! A restaurant layout that is perfectly designed to make you feel calm, relaxed and in a garden. So sit back and relax for the scrumptious vegan banana and blueberry pancakes for brunch, the incredible cod with salsa verde for dinner, or the Cauliflower and sweet potato curry with wild rice from the theatre menu. Whatever your appetite desires, Bourne & Hollingsworth can deliver it.
Chisou
Restaurant Type: Traditional Japanese restaurant
Location: 31 Beauchamp Pl, Chelsea, London SW3 1NU
Price: £££
Anyone who loves the taste and craftsmanship that goes into sushi and other popular Japanese food has come to the right place when they book a seat at Chisou's in Knightsbridge. Anyone can get sushi in London but if you are looking for an authentic taste of Japanese food then this is the right place for you. Chisou has a number of restaurants around central London and what makes Chisou different is what it has to offer. If you're passion for Japanese food is more than just enjoying a night of delicious food than why not join one of the many workshops and classes that the chefs at Chisou host to teach you the methods and skills of making authentic sushi at home.
Jolene
Restaurant Type: Bakery, Wine Bar and ultimate brunching spot!
Location: 22 Newington Green, London, N16 9PU
Price: £
Hackney has a new and highly-recommended bakery, wine bar and restaurant created by the fantastic duo, Andy Cato and David Gingell. The duo have harmonised a perfect mix between a comfortable bakery and a stylish and innovative restaurant and wine bar. With Andy's career background in Farming and David's background as a chef, the two of them have created fresh, innovative and tasty meals to cater to the needs of the people in Hackney.