WINTER GETAWAYS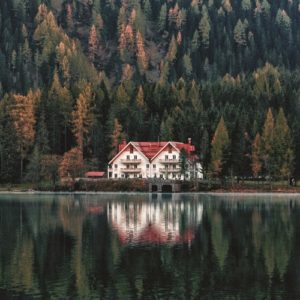 Country Getaway Spa Weekend at Chewton Glen – Hampshire
Price: From £650 per room for 3 nights
Come experience an English original at Chewton Glen where you can stay in the charming New Forest National Park, enjoying full access to the award-winning Spa and nine-hole gold course. Immerse yourself in the unique heritage or take a walk down to the beach for exquisite views of the Dorset and Hampshire coastline.
Another Place, Lake District
Prices: Rooms from £160 per night
In 2017 not only did UNESCO award the Lake District the World Heritage Status but a spectacular boutique hotel opened, Another Place. The Lake is within 18 acres of the lakeside landscape and the hotel has some unique features, most notably it's stylish glass swimming pool. Guests staying here can also hike, paddle board and sail.
Pool House, Inverness
Prices: Rooms from £225 per night
Venture into the Scottish Highlands by either flying into Inverness or taking the sleeper train there. Once you reach Inverness it's an hour and a half drive to the Gairloch, where this striking loch-side hotel is situated. Here you can immerse yourself in a range of activities such as whiskey tasting, hiking in the highlands or just relaxing in the hotel by the fireplace.
The Scarlet, Cornwall
Prices: Rooms from £330 per night
Luxury eco hotel over-looking the glamorous Mawgan Porth Beach. The rooms have large glass windows allowing you to enjoy spectacular views of the cliffs, sea and sky. This is the perfect getaway for optimal relaxation, indulge in mud treatments or soak away in the cliff top hot tubs. There's even a room specifically dedicated to maxing relaxation, where there are unique hanging pods perfect for an afternoon nap.
Moat Cottage, Suffolk
Prices: from £995 per night
If you're after a cottage for a family getaway, the Moat cottage part of the Wilderness Reserve in Suffolk is the one. This is a unique Tudor farmhouse painted in a bold pink and termed the most 'Instagrammable cottage'. The cottage has six bedrooms, roll-top baths and an open plan living area. There are also bicycles for venturing out and exploring Suffolk.
To have your getaway organised contact The Organisers Managing Director, Katie Shapley, or a member of her team on +44(0) 20 7078 7554 or team@theorganisers.com
Photo by Jon Tyson on Unsplash